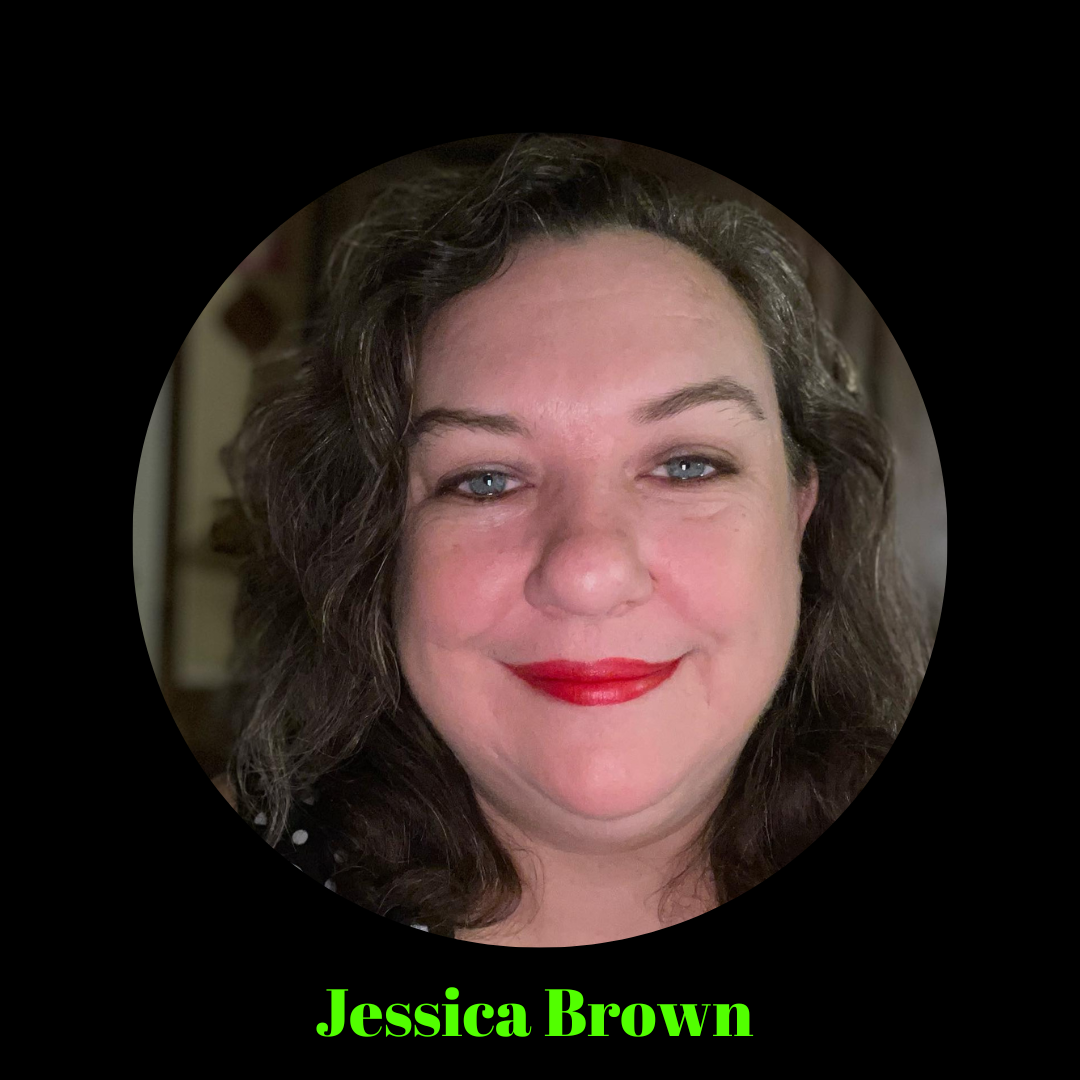 "With the hell I've lived, nothing could stop me from chasing my dreams. Give me hell, I'll rise to the challenge. I may fall, but I'll always get back up and keep fighting. I will RISE. I am insatiable fire. I not only survived my past, but I overcame it. If I can, you can too and do even more. You are not alone."
-Jessica Brown
Born in Huntington, West Virginia, as a very young child I endured severe child sexual, physical and emotional abuse, domestic violence, and complex trauma at the hands of my biological father and older brother. I have been raped, beaten, silenced, and abused in about every way possible time and again by men. I was isolated and was not permitted to have friends, which was strictly enforced by whatever means necessary. My only friends were cats.
A radio played in the basement constantly so the neighbors couldn't hear the screams. My dad would tell me not to cry because it didn't hurt when he would beat me. There were constant battles with the neighbors where my dad would pull guns on the neighbors if they turned around in our driveway, which was at the end of a dead-end street.
Breaking the forced silence I lived in and attempting to get help when I was 10 years old nearly cost me my life, but I knew it had to stop and my dad was dangerous not only to me but everyone.
I initially reported the abuse to the CAP program at school when I was 9 years old. About six months later, I came home from school knowing nothing and my dad met me at the door with his 44-magnum, pacing the floors. I hid in the closet, which my mom coaxed me out of when she came home from work prior to CPS arriving. When the CPS worker arrived, I reiterated the allegations of sexual abuse despite being threatened with a gun by my dad. She watched him run at me while she was there and she left me there with him, telling him he had to leave. CPS never came back. Shortly after, my house burned down and the day it burned my dad picked me up from the same school I told on him at. I was severely beaten for telling on my dad and "trying to get him into trouble" as he called it.
The neighbors knew the situation but refused to get involved. They were afraid of my dad. I was on my own. Even my mom fed my dad after CPS came and she knew what was going on. I saw it and the neighbors told me he was still there. My family knew about the situation too they refused to get involved. They told me to tell the school.
In the end, it took me changing counties, moving to a new house, going to a new school, telling everyone at school what was going on amongst the other kids, and then one day a police officer showed up at the school. I reiterated my allegations yet again. That's the day I was actually removed from my home thanks to a police officer on a wild goose chase and a very kind, concerned 5th grade teacher who happened to take an interest in me. They were heroes to me at 10 years old. CPS was going to take me to get clothes that day until I told them my dad would shoot them to get to me and I refused to go into the house.
When I was placed in kinship care, my brother picked up where my dad left off and he blamed me for the things that my dad did to him. Until the day he died in 2020, my brother made it his life's mission to punish me for what my dad did to him, everything from beating me with a belt and stealing my identity to trying to kill me with a butcher knife. I was never asked why I was
running away. My aunt's solution was to tie me up with a belt to one of her dresses and when that failed my uncle also took a belt tome to try to stop me for running away. It didn't work.
At 11, I stood up to my dad at a theme park he showed up at on a motorcycle, while stalking my mom, brother and myself. My mom and brother were running away scared, but I walked right up to him and told him to leave us the hell alone because he was not supposed to be around us. He turned around and left.
At 11, I was placed in my first foster home at 11 years old, which didn't work out because my foster mom thought I was going to runaway so she grabbed me, dragged me into her house and I fought back so it ended up a full restraint. Afterwards, I refused to stay in her home and was removed the next morning. I was diagnosed with bipolar disorder at 11 years old and post-traumatic stress disorder. I was moved to my second foster home which ended when I was returned home to my biological mother at age 12.
My second foster mom went above and beyond and was there to comfort my mom when I was dying in the hospital from a suicide attemper after I was sent home by CPS from her house. After my mom's boyfriend severely beat me with my mom standing right there and she did nothing, I didn't feel worthy of even sleeping in a bed, so I overdosed on a half a bottle of sleeping medication and slept in my closet. My mom woke up to me seizing in the closet. My second foster mom heard the call on the scanner and showed up just in case it was me and it was. MY mom's boyfriend told my mom she should let me die and went and cheated on her that night.
I heard that they aren't permitted to hit you in state's custody, so when I was 13, I refused to go back home to live with my mom and was placed back in state's custody. That's when I met my CASA worker Bob. I was a firecracker and my first thoughts were oh no not another pervert when I met him. He changed my view of men, was instrumental through his work in me getting justice and showed me by example that not all men are perverts. I was never able to return to my second foster home due to no beds being available. I was placed in three more foster homes after that. After jumping out of a social worker's moving vehicle when I was 13, I was placed in a lockdown treatment facility.
My dad was caught after eluding justice for nearly five years. When I was 14, I went to Golden Girl Group Home where I spent the next four and a half years, during which time I testified against my dad in court at age 15 and he was sentenced to 45-105 years without the possibility of parole because his psychological found him to be an ingrained pedophile incapable of rehabilitation which was the terms of any parole, he would ever be eligible for. My dad died in prison of COVID and underlying health conditions in November 2020 in Mount Olive Penitentiary. Prior to his death, I was able to forgive him for what he did, but he was where he belonged.
Despite missing most of middle school due to being moved around so much in state's custody, I graduated high school with high honors on time and had 13 poems published by the time I turned 18. I was never adopted. At around 17 years old, I was placed in the permanent legal and physical custody of Golden Girl Group Home. Blood is not always thicker than water. Family is who truly loves and care for you and show it in their actions. Family is who you make it. Golden Girl Group Home is my childhood home and the first and only safety and stability I knew in my childhood.
I almost decided not to go to college because I didn't think I was ready, but the group home enrolled me anyway. I attended Marshall University and started with remedial classes in math. I also volunteered for the Team for West Virginia Children for two years while I was in college as a (CASA), Court Appointed Special Advocate, for two years while I was in college, advocating for abused and neglected children in court.
It is true that what doesn't kill you makes you stronger. I didn't even know how to type when I enrolled in college and I had to take remedial math. What's important is not where you start. Life is a journey. Despite making a C in my introduction to social work course, I declared social work my major. I made straight A's through the core social work curriculum courses and graduated with honors, a 3.34 overall GPA, with my bachelor's degree in social work. My senior thesis of over 400 pages on the correlation between domestic violence, child abuse and animal abuse was sent to the president of Marshall University.
I obtained my license to practice social work through the Council on Social Work Education examination process and worked for CPS for almost a year following graduation from college.
I didn't have medical insurance in college and had no way to get my medication, so I went without it. Due to long term lack of medication, I got sick from my disability I was born with, which is bipolar disorder, and ended up catatonic. I was legally disabled.
Despite being legally disabled, I got a pre-apprenticeship certification in manufacturing. I have a deep passion for helping empower and inspire people to thrive, overcome and be resilient despite their adversity through sharing my life story, philanthropy, writing, public speaking, and advocacy. I have been a featured guest speaker in podcasts, videos, a blog series, and radio shows shared and broadcasted globally. I'm a humanitarian, an artist, published poet and author who has been quoted by Resilience: Advocates for Ending Violence. I was Volunteer of the Year for SCSA for 2021. I recently completed the Women Igniting Change Program. I have previously volunteered for the Humanity Preservation Foundation, Miracle Mind Global and the American Red Cross. I currently volunteer for Foster Kids United and I am working on writing an autobiography and studying for the law school admission test. I am also currently serving as a member of the board of the nonprofit I Believe You.
My mission is to use my negative situation and flip it into a positive that will help people. And I also want to recognize the hearts and hands who helped me become who I am too. That's my way of giving back for the opportunity that was given to me the chance I got from being helped. Paying it forward. If my story helps even one person it served a purpose and everything was worth it. It gives my experiences purpose and meaning.
I want to empower, inspire and encourage people to not only survive but overcome and thrive despite the adversity they face and chase their dreams, using my life story as an example of what can be done and more. It's easy to tear someone down, it's harder to build someone up, but much more rewarding. The best way I have found to overcome and thrive despite adversity is to flip a negative situation into a positive one and use it to help others, which enables you to RISE above it.
Never give up and if your voice is not initially heard, keep talking, keep sharing with anybody who will listen until somebody gives you the help that you need. Don't lay down and take it. It's not right and it's everybody's business. Trauma impacts everybody. Abuse impacts everybody and it can happen to anybody. Shattered silence is better than shattered people. You can RISE above it. There is always room for hope. It is always better to RISE together than alone.